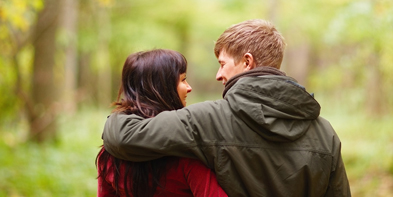 The National Marriage Project released a new report earlier this month analyzing the effects of date nights on a marriage. In short, the data showed that dedicated couple time fostered more communication, greater sexual satisfaction, more stable marriages (i.e., less likely to divorce), and greater commitment. The data was taken from two different surveys, the first included 1,600 married couples aged 18– 55 and the other was gathered from 10,000 adults (some married, come cohabiting). Both husbands and wives who spend couple time with their significant other at least once a week are 3.5 times more likely to enjoy above-average levels of sexual satisfaction, they're also  3.5 times more likely to report being "very happy" in their marriages. The data also showed that couples with kids and those without enjoyed the benefits of date nights equally. In fact, new parents who saw their couple time decline across the transition to parenthood were about two times more likely to experience a decline in marital quality, compared to new parents who kept up their couple time. The information shows how important dedicated weekly time together is, and the data also showed the decline of marital satisfaction the longer the gap between time spent together. A final point made in this report is that date nights can also provide couples and opportunity to de-stress. It offers an escape from some of the daily worries, plus opportunities to lend emotional support to each other. 
For the complete report, click here. 
For some date night ideas, click here and leave your ideas in the comments below!