Only those of who have experienced living with an emotionally unavailable man can understand the pain of not being able to get close to the one you love.
It seems that no matter what you do, he finds a way to create the distance. Excuses, other activities, anger, criticism, anything that will keep you away from him emotionally.
It's hard to describe how rejected, unimportant, depressed and alone it can make you feel.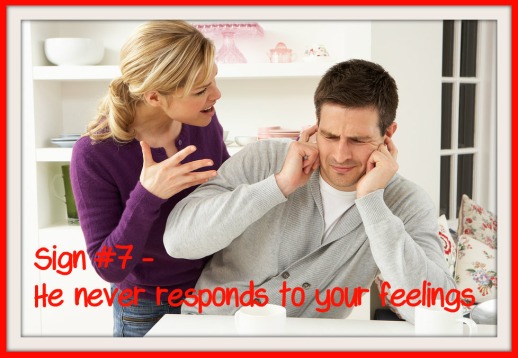 How to Know if Your Husband Has Checked Out Emotionally
Maybe you had a gut feeling about him even before you were married. There were some warning signs (for example, he wasn't too keen about commitment and the idea of marriage) but you brushed these signs off because you were in love.
Maybe you never saw it coming, because some men give the appearance of availability and speak openly about their feelings and their past.
This doesn't mean that you can't wake up one day married to a man who can't really connect emotionally and has completely shut you out (of his heart).

10 Signs of an Emotionally Unavailable Husband
Here's a list of 10 red flags that may signal emotional unavailability, followed by an answer to this question: Can emotionally unavailable men CHANGE?
Please keep reading on my blog - Right Here